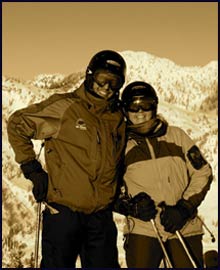 Although Nick and Hadley originally met back in highschool, through their mutual friend Lorin Ifkovic, they did not get to know each other until 2001 when their life as a couple started with a perfect first date to a Paul Simon concert.

After that, they spent the summer getting to know each other until Hadley left for an archaeological dig in Spain, a natural extension of the anthropology degree she had recently completed. While Hadley was abroad she kept in touch with Nick through snail mail (!) only to be very surprised when Nick procured himself both his first passport and a plane ticket to Barcelona, joining Hadley and her friend Cristin for a few weeks in Mallorca and the Barcelona area. What a great start to a relationship!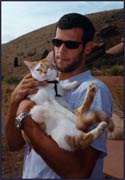 Upon returning from Europe, Hadley decided to remain in Connecticut to continue to get to know Nick and meanwhile start her teaching career. After a winter of New Haven apartments, Vermont ski trips and Nick re-enrolling in college, they decided it was time to pack up little Sammy cat and head west. Having already fallen in love with Lake Tahoe while a student in California, Hadley could think of nothing more ideal than to take the man she'd fallen for with her to the area's big water and even bigger mountains, where they have now lived for four years.

Nick spends his time learning to build everything he can imagine through the Engineering Program at the University of Nevada Reno and operating heavy equipment at Alpine Meadows Ski Area. Tonka trucks for adults. While pursuing a Master's degree, Hadley teaches fifth grade in Carson City where she enjoys the opportunity to work with many under-privileged children. They come home every night to each other and their happy home in the mountains.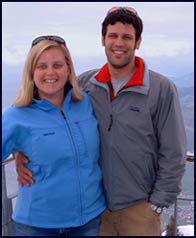 No matter where Nick and Hadley end up after the wedding, they know home will always be with each other, whether it be digging out of huge snows or basking in the sun on sandy beaches (or both . . .).

Thank you for being a part of this celebration!
Nick & Hadley feel so loved and lucky to have such wonderful people in their lives.